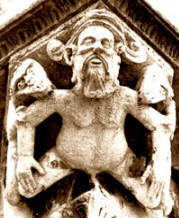 The FOLLORUM ENSEMBLE is a group of musicians working in the field of ancient music.
During its shows it offers music from Middle Ages and Renaissance: songs and dances performed with faithful copies of instruments typical of those epochs.
The purpose of the Ensemble is to communicate not only the suggestive beauty of these melodies, but also, and above all, the spirit and the strong capability of aggregation that the music is gifted with.
Carmina Burana, Troubadours and Trouvères songs, salterellos, estampies, cantigas, Renaissance dances: that is the musical line characterizing Follorum Ensemble's research. Not an easy enterprise considering the aim of this study. The reappropriation of a cultural ambit that has been too many times banished to museums. This idea has led the group to a lively and spontaneous interpretation – though always faithful to the spirit of the time – of the musical document and it's in this sense that streets seem like the right stalls to where ancient music returns to be free popular expression and re-establish that archaic contact (that lost communion) with the people. Moreover, the vast musical repertoire, as well as the flexibility characterizing the Ensemble, enable the group to perform into theatres or concert halls, without proving contradictory, but keeping its purposes unaltered.